Full coverage dental plans: Who has them, how they work and where to get them.
Your dental health is one of the most important facets in your life. From a financial standpoint, full coverage dental plans offer a means to help defray the costs associated with keeping the mouth in optimal condition.
Insurance is a supplement to paying out of pocket. Many misunderstand this and feel insurance should pay for everything. Rarely is this the case. The amount out of pocket depends on the level of insurance an employer has chosen for his employees and whether or not a dentist participates with the dental plan.
Full coverage dental plans enlist dentists to participate at a reduced fee schedule. The partnered company then refers its employees to dentists within their netwok, allowing the future patients to benefit from lower fees.


What does it mean when a dentist accepts a dental insurance but does not participate in it?
A participating dentist agrees to accept the fees set by the insurance company he is associated with. He is not allowed to charge the difference between his regular fees and the insurance company allowance to the patient.
When a dentist accepts full coverage dental plans, he is permitted to charge the patient the difference between his fee and that of the plan.
What needs changed with full coverage dental plans?
Insurance maximums need to be drastically increased. In the 1970's, when dental insurance became prevalent, individual dental insurance maximum payable benefits were approximately $1000 per year. As of 2006, these maximum amounts for the vast majority of insurance companies remains in the near vicinity of $1000 per year. Yes there are some exceptions. Unfortunately for the insured, dental fees have more than tripled during the same time period. You do not get as much bang for your buck. Don't blame the dentists. Inflation has raised the cost of everything, meanwhile dental coverages remain at a stagnant level. Talk to your employers and dental insurance companies.
However, any dental benefit is better than none.
The top dental plans with the best maximum amounts covered usually come from large employers. They are generally able to afford more comprehensive coverages.


What options are available for single individuals or families with self-imployed workers?
For individuals or families that are not a part of employer sponsored dental plans, there are other other options. Discounted dental plans are accepted by thousands of dentists and can help defray high treatment costs.


What are Discounted dental plans?
Discount dental plans are very similar to having a membership with a buying club. A flat fee is paid each year to be part of the dental plan. The membership gives you access to a provider dentist list. Provider dentists have agreed to reduce fees for members in the discount dental plan. The range of negotiated savings is generally between 10-60% of the regular office fees. Typical services included are: hygiene visits, exams, fillings root canals, crowns, dentures, extractions and orthodontics. The dentist agrees to provide these services to the patient at the pre-arranged discount rates which often can be accessed prior to purchasing the discount dental plan.
No insurance guarantees your will not have any out of pocket expenses. Full coverage dental plans are, however, a nice safety net to help keep dental costs under control.
The closer you live to a city with a dental school, the better the odds of locating many dentists that participate in traditional and discount dental plans.


^^To visit the net's #1 discount dental plan website, click here.^^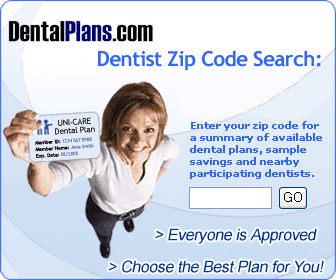 Additional articles pertaining to Insurance
Health Insurance Plan: Full protection for healthy living
3 Tips for securing an affordable insurance quote.
Health Insurance for the Self Employed
Seeking an Insurance Consultant for All Your Insurance needs
A Quick Guide to Various Medical Insurance Terms